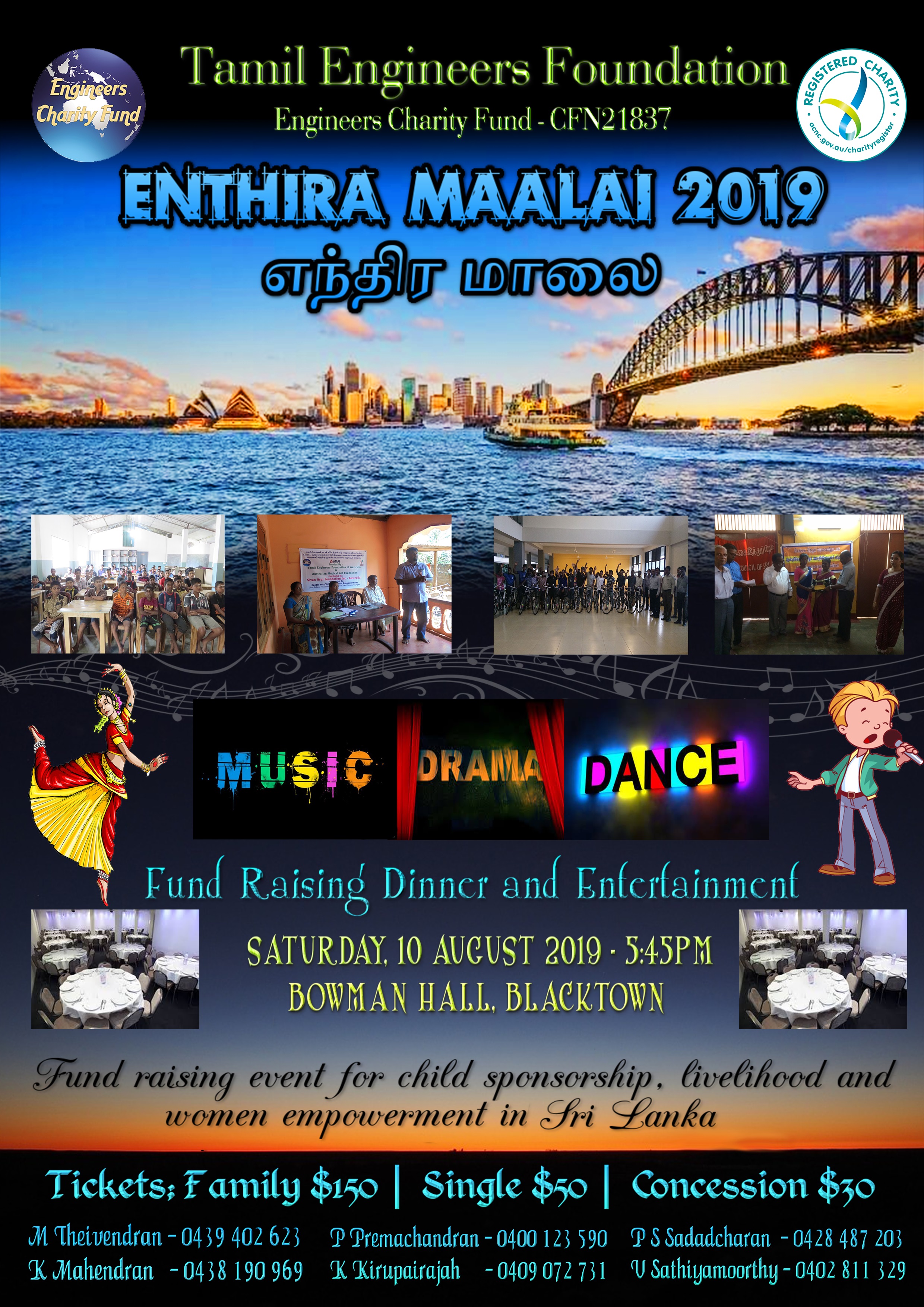 "Enthira Maalai – 2019" Fundraising Dinner & Entertainment Program which is organized by TEF NSW Chapter in Sydney on Saturday 10 August 2019.
The event coordination & arrangements are being undertaken by E81 batch Engineers & their family and friends. Our special thanks go to them.
Date & Time: 5.45 pm Saturday 10 August 2019.
Venue: Bowman Hall, Campbell St, Blacktown.
This will be an evening of entertainment with dinner to raise funds for child sponsorships, orphanage centers, livelihood & women empowerment projects and many other humanitarian efforts by TEF in our homeland. Music programs, dance, drama and entertainment by Sydney's young talents to keep you entertained in the evening while enjoying a delicious three-course dinner with your family & friends.
Following are the ticket denominations
Family - $150
Single - $50
Concession - $30
The ticket fare includes buffet dinner etc. Alternatively, you can be a Sponsor by donating $250, $500 or $1000. Sponsors details will be listed in the Magazine as Sponsors of this event. Also, the sponsors will receive a complement family ticket ($150) for the event Or half page Ad in the Magazine. The Sponsor Amounts are Tax deductible.
We thank E81 Engineers & TEF NSW Chapter for their excellent team effort in organizing this event to raise the most needed funds to our charity to continue our humanitarian efforts. Please contact the event organizing committee members listed in the Flyer to purchase your tickets in time (or send me an email to arrange to deliver your tickets). Please note that this is the 12th year of TEF's inception (2008 to 2019). TEF has grown remarkably well over the years and helped/supported many thousands of needy and disadvantaged people including women-headed families to establish a livelihood income in our homeland & overseas.
Our sincere thanks to all of you for your generous and kind-hearted support to TEF to implement various humanitarian projects.